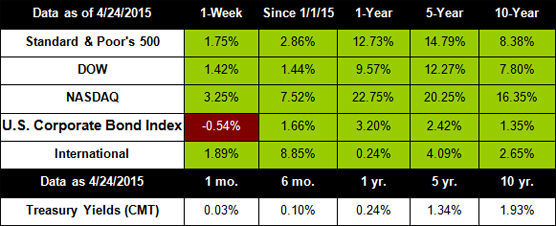 Markets rallied last week, lead by a surge in tech stocks that brought the NASDAQ and S&P 500 to new record closes. For the week, the S&P 500 gained 1.75%, the Dow grew 1.42%, and the NASDAQ added 3.25%.[1]
After weeks of uncertainty, markets shook off the doldrums and rallied on the back of earnings beats from market heavyweights. Without any major economic events having occurred last week, market performance was driven by reactions to the earnings reports of a few key players.[2]
Have earnings reports justified the stock market's reaction? Not really. Right now, it seems as though expectations going into earnings season were so low that any positive news was greeted with cheers. While total profits for 202 S&P 500 companies were up 8.7% over first quarter 2014, revenues were essentially flat. Weak revenue numbers indicate that companies struggled with slow demand last quarter and achieved profitability through cost-cutting measures. Looking ahead at the rest of earnings season, some analysts project that overall earnings for S&P 500 companies will be flat on 5.1% lower revenues.[3] Worse, currency headwinds from a strong dollar and global economic issues may affect demand in the second quarter as well.
The week ahead is packed with important economic events: a Federal Reserve Open Market Committee meeting, the first estimate of Q1 economic growth, and a raft of company earnings reports. No interest rate changes are expected at the Fed's policy-setting meeting, but officials may clarify their thoughts on first quarter economic performance.
Right now, the future timing of rate changes is anyone's guess. Economists are focusing on determining how much of weak first quarter data is weather related and how much was due to lingering economic forces like a strong dollar and soft global growth. Though a June rate hike isn't off the table, some Fed officials are hinting that higher interest rates might come later in the year.[4] With respect to markets, we can expect further volatility as investors digest earnings reports and economic data.
A special security note:
Due to a global increase in financial identity theft and email hacking, please do not send confidential information such as social security numbers, EIN, DOB, account numbers or any other sensitive data via email. Also, please do not email trade requests as they cannot be acted upon without verbal communication and confirmation. For security reasons, we need you to reach out to the office directly regarding these matters.
ECONOMIC CALENDAR:
Monday: Dallas Fed Mfg. Survey
Tuesday: S&P Case-Shiller HPI, Consumer Confidence
Wednesday: GDP, Pending Home Sales Index, EIA Petroleum Status Report, FOMC Meeting Announcement, 2:00 PM ET
Thursday: Jobless Claims, Personal Income and Outlays, Employment Cost Index, Chicago PMI
Friday: Motor Vehicle Sales, PMI Manufacturing Index, ISM Mfg. Index, Consumer Sentiment, Construction Spending
Quote of the week:
"Act with a determination not to be turned aside by thoughts of the past and fears of the future." – Robert E. Lee
HEADLINES:
Weekly jobless claims rise for third straight week. Though the number of Americans claiming new unemployment benefits rose again last week, the underlying trend shows that the labor market is improving. Seasonal issues like school breaks and Easter holidays tend to make numbers more volatile this time of year.[5]
Tight housing supply holding back market. A limited number of homes for sale is keeping back a spring surge in the housing market. Nearly three-quarters of the available homes for sale are "stale" and have sat on the market for more than a month with little buyer interest. High prices may be turning off prospective buyers.[6]
No Greek deal in sight. As the deadline to a Greek debt bailout edges closer, no permanent solution is emerging. Greece is having trouble repaying loans to Eurozone creditors, and lenders warned Friday that no fresh aid will come unless the cash-strapped nation agrees to serious economic reforms.[7]
Oil prices diverge. Though U.S. crude oil prices fell on worries of another production glut, international Brent crude prices rose to 2015 highs as fighting in Yemen threatened supplies. This push-pull in prices makes it hard for analysts to predict the direction of prices.[8]
Click here to view full newsletter with reference articles, tax tips, golf tips, recipe of the week and more!
Notes on featured image: All index returns exclude reinvested dividends, and the 5-year and 10-year returns are annualized. Sources: Yahoo! Finance and Treasury.gov. International performance is represented by the MSCI EAFE Index. Corporate bond performance is represented by the DJCBP. Past performance is no guarantee of future results. Indices are unmanaged and cannot be invested into directly.