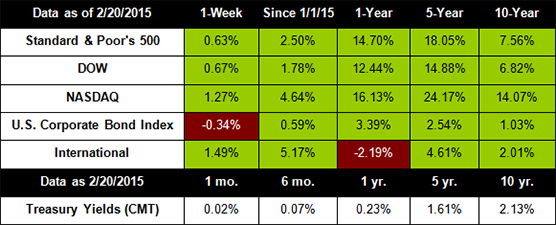 Stocks rallied on the news that Greece reached a new deal with its creditors, sending the Dow and the S&P 500 to new record closes and bringing the Nasdaq close to its own record set in March 2000.[1]
For the week, the S&P 500 gained 0.63%, the Dow rose 0.67%, and the NASDAQ grew 1.27%.[2]
Greek leaders, who have been in talks with EU creditors for several weeks, were able to reach an 11th-hour deal on Friday to extend the Greek bailout for an extra four months. Though the agreement just kicks the can down the road until the next major deadline, it avoids (or at least postpones) a debt default and fresh economic crisis and keeps Greece in the Eurozone for now. The delay also gives leaders breathing room to negotiate further economic reforms that will likely be unpopular with Greek voters.[3] Investors reacted positively to the news and sent the major indexes to record highs.
In other geopolitical news, one of NATO's highest-ranking generals warned that alliance members should prepare for a Russian assault on an Eastern European member state. Though the current ceasefire between Russian and Ukrainian forces continues, the remarks highlight a serious decline in trust between Europe and Russia.[4] How real is the threat of all-out war? It's impossible to know at this juncture, but it's clear that European military commanders are taking Russia's territorial ambitions seriously.
The week ahead is filled with important economic events. Federal Reserve Chair Janet Yellen will speak before the House and Senate about monetary policy, putting future rate changes in focus. If the Fed holds to a mid-year interest hike, it would signal the bank's confidence in the economy's resilience; holding off might indicate concern about how the global picture might affect domestic growth.[5] Investors will also get their second look at fourth quarter 2014 Gross Domestic Product, giving us a clearer look at how the economy performed in the last three months of the year.
ECONOMIC CALENDAR:
Monday: Existing Home Sales, Dallas Fed Mfg. Survey
Tuesday: S&P Case-Shiller HPI, Consumer Confidence, Janet Yellen Speaks 10:00 AM ET
Wednesday: New Home Sales, Janet Yellen Speaks 10:00 AM ET
Thursday: Consumer Price Index, Durable Goods Orders, Jobless Claims
Friday: GDP, Chicago PMI, Consumer Sentiment, Pending Home Sales Index
Quote of the week:
"Faith in your own powers and confidence in your individual methods are essential to success." – Roderick Stevens
HEADLINES:
Weekly jobless claims fall more than forecast. After some seasonal disruptions, weekly applications for unemployment benefits fell to 283,000 in the latest sign of an improving job market. The four-week average, a less volatile measure, fell to its lowest level in 15 weeks.[6]
U.S. home construction falls in January. Groundbreaking on new homes dropped 2.0% last month as builders slowed down construction of new single-family homes. However, building activity is still moving faster than it did a year ago.[7]
U.S. loosens trade restrictions against Cuba. The federal government announced plans to allow small Cuban businesses to export goods to the U.S. Though there are restrictions on what can be imported, the move represents an important change in relations with the communist country.[8]
U.S. factory activity rises. The manufacturing sector, a significant contributor to economic growth, expanded in February at its fastest pace since November. This is good news after the cold-weather related slowdowns of early 2014.[9]
Click here to view full newsletter with reference articles, tax tips, golf tips, recipe of the week and more!
Notes on featured image: All index returns exclude reinvested dividends, and the 5-year and 10-year returns are annualized. Sources: Yahoo! Finance and Treasury.gov. International performance is represented by the MSCI EAFE Index. Corporate bond performance is represented by the DJCBP. Past performance is no guarantee of future results. Indices are unmanaged and cannot be invested into directly.