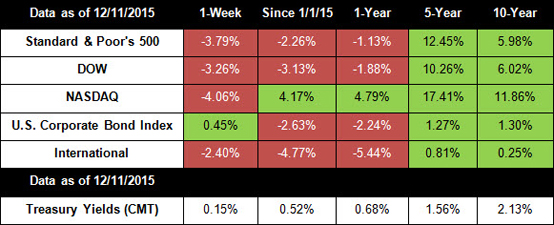 Markets ended a volatile week sharply down after oil hit near-seven-year lows and a major corporate merger highlighted global growth woes. For the week, the S&P 500 fell 3.79%, the Dow dropped 3.26%, and the NASDAQ lost 4.06%.[1]
Worries about the global economy took center stage last week as oil prices skidded to multi-year lows on warning of a supply glut. U.S. crude oil futures dropped over 10% lower for the week on expectations that oil prices may suffer from declining demand, high production volume, and a warm weather forecast.[2]
Also underscoring the global weakness was the news that two of America's largest corporate behemoths – Dow Chemical [DOW.WD] and DuPont [DD] – have agreed to combine in one of the largest mergers in U.S. history.[3]
All this gloom and doom about the global economy complicates the upcoming Federal Reserve decision about raising interest rates. In August, when a surprise move by the Chinese to devalue the yuan sent shockwaves through financial markets, the Fed declined a rate hike.[4] Now, the Chinese are loosening the yuan again, raising concerns about the health of the world's second-largest economy.[5]
Will global woes derail the Fed's intent to raise rates? We'll have to see.
Official statements from the Fed have emphasized that the Fed is closely weighing the strengthening domestic economy against global concerns in their rate decisions. Currently, Wall Street odds strongly favor a December rate hike, with one firm putting the probability at 79%.[6]
In the week ahead, all eyes will be on the Fed's meeting, and investors will focus on the official announcement and Janet Yellen's press conference on Wednesday afternoon. Investors will also look carefully at manufacturing and industrial production data to see whether global woes are affecting critical domestic industries.
ECONOMIC CALENDAR:
Tuesday: Consumer Price Index, Empire State Mfg. Survey, Housing Market Index, Treasury International Capital
Wednesday: Housing Starts, Industrial Production, PMI Manufacturing Index Flash, EIA Petroleum Status Report, FOMC Meeting Announcement, FOMC Forecasts, Fed Chair Press Conference
Thursday: Jobless Claims, Philadelphia Fed Business Outlook Survey
HEADLINES:
Retail sales rise in November. Americans boosted their spending in November, offering retailers hope for the season. Excluding gasoline, whose price has declined sharply, retail sales are up 0.3%.[7]
Consumer sentiment ticks upward in December. Consumers regained some confidence this month, which hopefully bodes well for the critical holiday shopping season.[8]
Business inventories flat in October. After a tiny increase in inventory purchases in September, businesses left their stockpiles flat in October as total business sales fell. The weakness could impact growth in the fourth quarter.[9]
Jobless claims jump to five-month high. Weekly claims rose 13,000 last week though the increase doesn't necessarily indicate worsening conditions. Claims tend to be volatile around the holidays and underlying data remains positive.[10]
Quote of the Week
"The great accomplishments of man have resulted from the transmission of ideas and enthusiasm." – Thomas J. Watson
RECIPE OF THE WEEK
Spicy Molasses Ginger Cookies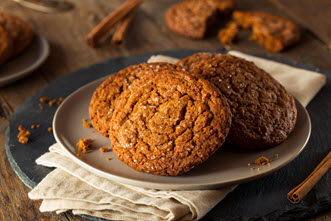 These classic cookies are full of warm, spicy notes
Ingredients:
Makes 16 cookies
2 level cups all-purpose flour
3/4 teaspoon baking soda
1/2 teaspoon fine sea salt or table salt
1 1/2 teaspoons ground cinnamon
1 teaspoon ground ginger
1/2 teaspoon ground cloves
1/4 teaspoon ground nutmeg
1/4 teaspoon freshly ground black pepper
1/2 cup (1 stick) unsalted butter, at room temperature
1/2 cup lightly packed dark brown sugar
1/4 cup white sugar
1 large egg yolk
1 teaspoon vanilla extract
1/2 cup molasses
1/2 cup turbinado or coarse sugar, for rolling
Chef's Tip: Toasting and grinding your own spices will give these cookies an extra kick of flavor.
Directions:
Preheat your oven to 350°F and line the bottoms of two baking sheets with parchment paper or silicone baking mats.
Mix together the flour, baking soda, salt, and spices in a bowl. In another large bowl, use a handheld or electric mixer to beat together the softened butter, brown sugar, and white sugar until light and fluffy. Add the egg yolk, molasses, and vanilla extract and beat on low until combined.
While the mixer is on low, gradually add spoonfuls of the dry ingredients and mix until the batter is just combined. Don't overmix or you'll end up with cookies that are too chewy.
Pour the coarse sugar into a small plate and shape the cookie dough with your hands into about 16 balls. Roll each one into the sugar and place them 3 inches apart on the baking sheets.
Bake the cookies for 10 minutes, rotating the sheets and switching them between racks halfway through. Though the cookies may look underbaked, they'll set as they cool.
Once the baking sheets are cool enough to handle, move the cookies to wire racks to finish cooling.
Recipe adapted from Dawn Perry | RealSimple.com[11]
TAX TIP: Document Your Health Insurance
The Affordable Care Act ushered in many changes to the healthcare landscape. As of 2014, taxpayers must verify that they have qualifying health coverage on their tax returns. For most taxpayers, simply checking a box when they prepare their taxes will be enough. Though the IRS doesn't require you to submit proof of coverage, it's a good idea to have those documents on hand:
Qualifying documentation includes: insurance cards, explanation of benefits statements from your insurer, W-2 or payroll statements reflecting health insurance deductions, records of advance payments of the premium tax credit, and other statements indicating that you, or a member of your family, had health-care coverage.
While your employer may be able to assist you in verifying your coverage, your employer is not required to provide documentation specific to your health care coverage.
For more information about health insurance requirements and your taxes, contact a qualified tax specialist or visit www.irs.gov/aca.
Tip courtesy of IRS.gov[12]
Golf Tip: Quit Shanking
Shanking happens when you push your club out too far ahead of the ball and strike it with the hosel instead of the clubface.
To cure the dreaded shanks, try these tips:
Place a second ball just inside of your actual ball so that it's closer to you. As you set up your shot, visualize yourself hitting the inside ball.
You can also place a headcover or other item just outside of the ball and focus on not hitting the object as you swing.
Tip courtesy of Randy Chang | Golf Tips Mag[13]
Healthy Lifestyle: Stay Injury-Free
As we age, our bodies need more TLC. Help avoid these commonplace aches, pains, and injuries with simple exercises:
Lower-back pain: While you should always have pains checked out by a physician to make sure they're not a sign of something serious, many lower-back aches can be prevented by strengthening your core.
Try: Planks, side planks, and pilates.
Knee strains: One common cause of ongoing knee pains are weak or unbalanced quadriceps (the big muscle at the front of your thigh).
Try: lunges and step-ups.
Rotator cuff injuries: One study found that most people over 50 have tears in this shoulder muscle.
Try: Internal and external rotations using an exercise band.
If you're interested in using exercise to improve your health, work with a physical therapist or qualified trainer to develop a customized workout regimen.
Tip courtesy of AARP[14]
Green Living: Avoid Chemical Candles
Many people light up the cold months with scented candles. However, some commercial candles are made with chemical scents that can pollute your indoor air and cause respiratory issues for allergy and asthma sufferers. Researchers at South Carolina State University found that paraffin candles gave off chemicals like toluene, benzene, and other toxic chemicals. While you don't have to run out and replace all of your candles, be judicious about your use of candles, especially around those with respiratory issues.
Tip courtesy of CNN[15]
Disclosures
Investing involves risk including the potential loss of principal. No investment strategy can guarantee a profit or protect against loss in periods of declining values.
Diversification does not guarantee profit nor is it guaranteed to protect assets.
The Standard & Poor's 500 (S&P 500) is an unmanaged group of securities considered to be representative of the stock market in general.
The Dow Jones Industrial Average is a price-weighted average of 30 significant stocks traded on the New York Stock Exchange and the NASDAQ. The DJIA was invented by Charles Dow back in 1896.
The Nasdaq Composite is an index of the common stocks and similar securities listed on the NASDAQ stock market and is considered a broad indicator of the performance of stocks of technology companies and growth companies.
The MSCI EAFE Index was created by Morgan Stanley Capital International (MSCI) that serves as a benchmark of the performance in major international equity markets as represented by 21 major MSCI indexes from Europe, Australia and Southeast Asia.
The Dow Jones Corporate Bond Index is a 96-bond index designed to represent the market performance, on a total-return basis, of investment-grade bonds issued by leading U.S. companies. Bonds are equally weighted by maturity cell, industry sector, and the overall index.
The S&P/Case-Shiller Home Price Indices are the leading measures of U.S. residential real estate prices, tracking changes in the value of residential real estate. The index is made up of measures of real estate prices in 20 cities and weighted to produce the index.
The 10-year Treasury Note represents debt owed by the United States Treasury to the public. Since the U.S. Government is seen as a risk-free borrower, investors use the 10-year Treasury Note as a benchmark for the long-term bond market.
Opinions expressed are subject to change without notice and are not intended as investment advice or to predict future performance.
Past performance does not guarantee future results.
You cannot invest directly in an index.
Consult your financial professional before making any investment decision.
Fixed income investments are subject to various risks including changes in interest rates, credit quality, inflation risk, market valuations, prepayments, corporate events, tax ramifications and other factors.
These are the views of Platinum Advisor Marketing Strategies, LLC, and not necessarily those of the named representative, Broker dealer or Investment Advisor, and should not be construed as investment advice. Neither the named representative nor the named Broker dealer or Investment Advisor gives tax or legal advice. All information is believed to be from reliable sources; however, we make no representation as to its completeness or accuracy. Please consult your financial advisor for further information.
By clicking on these links, you will leave our server, as they are located on another server. We have not independently verified the information available through this link. The link is provided to you as a matter of interest. Please click on the links below to leave and proceed to the selected site.
Sources
1 http://finance.yahoo.com/q/hp?s=%5EGSPC&a=11&b=7&c=2015&d=11&e=11&f=2015&g=d
http://finance.yahoo.com/q/hp?a=11&b=7&c=2015&d=11&e=11&f=2015&g=d&s=%5EDJI%2C+&ql=1
http://finance.yahoo.com/q/hp?a=11&b=7&c=2015&d=11&e=11&f=2015&g=d&s=%5EIXIC%2C+&ql=1
2 http://www.cnbc.com/2015/12/10/us-crude-oil-holds-near-2009-lows-as-global-glut-persists.html
3 http://www.usatoday.com/story/money/business/2015/12/11/dupont-dow-chemical-merger/77137888/
4 http://qz.com/572388/investors-have-already-begun-worrying-about-the-feds-second-rate-hike/
5 http://www.cnbc.com/2015/12/11/china-yuan-falls-to-lowest-since-august-2011-versus-dollar.htmlhttp://www.cnbc.com/2015/12/11/china-yuan-falls-to-lowest-since-august-2011-versus-dollar.html
6 http://www.cmegroup.com/trading/interest-rates/countdown-to-fomc.html
7 http://www.foxbusiness.com/economy-policy/2015/12/11/november-retail-sales/
8 http://www.foxbusiness.com/economy-policy/2015/12/11/consumer-sentiment-ticks-up-in-december/
9 http://www.foxnews.com/us/2015/12/11/us-businesses-left-stockpiles-unchanged-in-october-while-sales-fell-raising/
10 http://www.foxbusiness.com/economy-policy/2015/12/10/weekly-jobless-claims/
11 http://www.realsimple.com/food-recipes/browse-all-recipes/molasses-cookies
12 https://www.irs.gov/Affordable-Care-Act/Individuals-and-Families/Gathering-Your-Health-Coverage-Documentation-for-the-Tax-Filing-Season
13 https://www.youtube.com/watch?list=UUPLAYER_GolfTipsMag&time_continue=66&v=2G2_1vNmvb4
14 http://www.aarp.org/health/conditions-treatments/info-2015/exercises-to-prevent-injuries.html?intcmp=HEA-HLLV-FLXSLDR-SLIDE2-RL1
15 http://www.cnn.com/2009/HEALTH/08/21/candles.air.pollution/