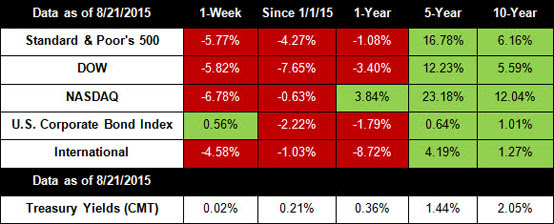 U.S. stocks ended a defensive week in the red as investor sentiment deteriorated in the face of fresh worries out of China. For the week, the S&P 500 fell 5.77%, the Dow lost 5.82%, and the NASDAQ slid 6.78%.[i]
Much of last week's selloff can be attributed to ongoing worries about China. After Chinese officials unexpectedly devalued China's currency two weeks ago, recent economic releases indicate that the world's second-largest economy is rapidly slowing.[ii]
A slide in global crude oil and other commodity prices also contributed to fears of a slowdown. Oil breached the $40/barrel level on a combination of supply and demand worries. Though domestic producers have cut back on drilling operations, OPEC producers like Saudi Arabia and Iraq continue to hold the spigot wide open in the hopes of chasing U.S. producers out of the market. On the demand side of the ledger, investors are worried that a slowdown in China might affect the world's appetite for oil.[iii]
When markets take a dive, it's natural to worry about what's happening and where markets will go next. However, part of being a stock investor is taking market swings in stride. Now is the time to stay cool-headed and focused on your long-term goals. We are keeping a very close eye on markets worldwide and will update you as needed during the evolving situation. While we can't predict where markets will go in the next days and weeks, we specialize in helping clients protect and grow their wealth in many market environments.
Looking ahead, investors will be targeting a slew of domestic data this week, including an important economic outlook report from the Federal Reserve. This week's Jackson Hole Symposium, a gathering of global economists, will hopefully provide additional clarity from Fed economists due to give speeches. Investors will also be watching for more news about Greece's snap elections, as well as more data out of China.[iv]
HEADLINES:
Quote of the Week
"Courage is being scared to death, but saddling up anyway."  – John Wayne
ECONOMIC CALENDAR:
Tuesday: S&P Case-Shiller HPI, New Home Sales, Consumer Confidence
Wednesday: Durable Goods Orders, EIA Petroleum Status Report
Thursday: GDP, Jobless Claims, Pending Home Sales Index
Friday: Personal Income and Outlays, Consumer Sentiment
Tax Tip of the Week: Don't Get Snared by Tax Scams
Though tax season is over, tax scammers work year-round to steal money and personal information from the unwary. Even if elderly taxpayers and those who speak English as a second language are most often targeted, anyone can get caught up in a tax scam. The Treasury estimates that tax scams have cost victims over $20 million since October 2013. To avoid becoming a statistic, follow these guidelines:
Scammers rely on fear and intimidation to do their work. If you receive a call or email that is threatening or aggressive, chances are that it is a scam. The IRS will never bring in the police or immigration authorities because of unpaid taxes.
Scammers often "spoof" caller ID, meaning phone calls may appear to come from the IRS or another official number. It's always a good idea to ask for a badge or case number and call the IRS directly at 800-829-1040.
The IRS will never call you to demand immediate payment or call you before sending a written notice in the mail. You will always have an opportunity to appeal the amount that you owe.
Never pay any taxes owed by Western Union or prepaid debit card.
For more information about tax scams contact a qualified tax expert or get more information on IRS.gov.  Tip courtesy of IRS.gov[i]
Click here to view full newsletter with reference articles, tax tips, golf tips, recipe of the week and more!
Notes on featured image: All index returns exclude reinvested dividends, and the 5-year and 10-year returns are annualized. Sources: Yahoo! Finance and Treasury.gov. International performance is represented by the MSCI EAFE Index. Corporate bond performance is represented by the DJCBP. Past performance is no guarantee of future results. Indices are unmanaged and cannot be invested into directly.