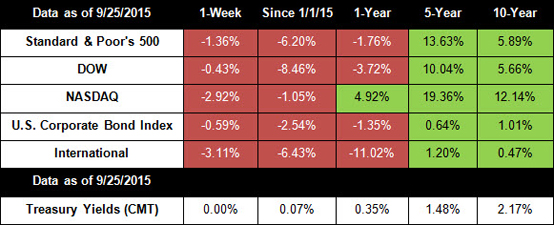 Stocks continued their rollercoaster ride last week, dogged by worries from Washington and a plunge in biotechs that pushed the major indexes lower. For the week, the S&P 500 lost 1.36%, the Dow fell 0.43%, and the NASDAQ dropped 2.92%.[1]
Government Roadblocks Ahead?
Amid concerns about an October government shutdown, House Speaker John Boehner announced that he would resign his position next month to avoid leadership turmoil. While many analysts believe that his departure reduces the risk of an October shutdown, it could increase the risk of an end-of-year standoff. Republicans and Democrats are squaring off again over fiscal policy and the added drama of next year's elections could cause the fight to drag out to the end of the year.[2] Will the Fed have to consider Washington politics in its rate decision? We'll see.
Fed Clarifies Rate Thinking (Somewhat)
Federal Reserve Chairwoman Janet Yellen clarified the Fed's position on rate hikes in a speech on Thursday. She emphasized that the Fed is likely to raise rates this year, and that she is personally committed to that strategy. However, the decision will continue to rely on economic data and a rate hike is not yet certain.[3] Her statement adds much-needed context to the Fed's decision to keep rates steady and will hopefully give investors more certainty this week.
Q2 Growth Accelerated to 3.9%
We also got our final report on second-quarter economic growth, which showed that Gross Domestic Product (GDP) grew faster than originally expected. The revised data shows that the economy grew at an accelerated rate of 3.9% last quarter, driven by stronger consumer spending and construction.[4] Hopefully, the increased pace of consumer spending – which drives two-thirds of economic activity – held into the third quarter.
Week Ahead Packed with Data
Looking at the week ahead, analysts will be closely watching the September jobs report, which could sway the debate on interest rate hikes one way or the other. Investors will also be watching Washington to see how Boehner's resignation will affect the budget battle. With several Fed officials giving speeches that could shed additional light on their internal debates, this week promises plenty of headlines for markets to digest.[5]
ECONOMIC CALENDAR:
Monday: Personal Income and Outlays, Pending Home Sales Index, Dallas Fed Mfg. Survey
Tuesday: International Trade, S&P Case-Shiller HPI, Consumer Confidence
Wednesday: ADP Employment Report, Chicago PMI, EIA Petroleum Status Report, Janet Yellen Speaks 2:00 PM ET
Thursday: Motor Vehicle Sales, Jobless Claims, PMI Manufacturing Index, ISM Mfg. Index, Construction Spending
Friday: Employment Situation, Factory Orders
HEADLINES:
Durable goods orders drop in August. The latest data shows that orders for long-lasting manufactured goods dropped by 2% last month. However, exclusive of the volatile transportation category, durable goods orders remained flat, indicating that the drop might be temporary.[6]
Consumer sentiment falls to lowest level since October 2014. A survey of how Americans feel about the economy found that consumers lost confidence in September amid worries about China and the global economy. Since consumer spending makes up a large part of economic activity, a drop in confidence could affect growth this quarter.[7]
Weekly jobless claims rise slightly. The number of Americans filing new claims for unemployment benefits rose slightly by 3,000 claims last week, though the underlying trend still shows the economy adding jobs.[8]
Existing home sales drop in August. After previous months of gains, existing home sales dropped sharply last month, falling 4.8%. However, monthly data can be volatile and sales are still up 6.2% from one year ago.[9]
Quote of the Week:
"Without labor nothing prospers." – Sophocles
Tax Tip of the Week: Want to Give Back? Become a Tax Volunteer.
If you'd like to learn more about taxes and give back to your community, becoming a tax volunteer might interest you. The IRS sponsors two programs to offer assistance to low-to-moderate income taxpayers. Volunteers in the Volunteer Income Tax Assistance and Tax Counseling for the Elderly prepared more than 3.7 million free tax returns in 2015. Here's what you need to know:
No prior experience is needed, though fluency in another language is very helpful.
You'll get free tax training and materials. You'll learn how to prepare basic tax returns and learn about many tax credits and deductions.
Volunteer hours are flexible. Volunteers usually serve between three and five hours per week, depending on the needs of their tax site.
Volunteer sites may be close to your home. More than 12,000 sites in neighborhoods around the country were set up in libraries, community centers, schools, and shopping malls in 2015.
For more information about becoming a tax volunteer, visit IRS.gov.
Tip courtesy of IRS.gov[11]
Click here to view full newsletter including reference articles, golf tips, our recipe of the week and more!
Notes on featured image: All index returns exclude reinvested dividends, and the 5-year and 10-year returns are annualized. Sources: Yahoo! Finance and Treasury.gov. International performance is represented by the MSCI EAFE Index. Corporate bond performance is represented by the DJCBP. Past performance is no guarantee of future results. Indices are unmanaged and cannot be invested into directly