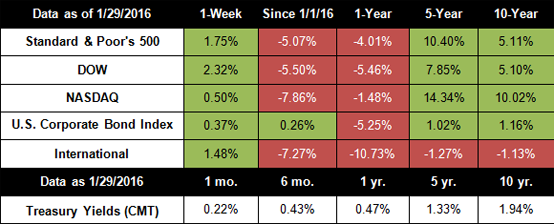 Stocks experienced another volatile week with high daily swings in value. Despite the lingering uncertainty, stocks ended the week higher on the back of better-than-expected earnings reports and higher oil prices. For the week, the S&P 500 gained 1.75%, the Dow grew 2.32%, and the NASDAQ added 0.50%.[1]
Fourth-quarter earnings season is in full swing and will continue to play a role in stock performance in future weeks. With reports in from 201 S&P 500 members, overall earnings are down 3.2% on 3.6% lower revenues from Q4 2015. The overall picture so far is one of growth challenges from a slowing global economy, a strong U.S. dollar, and weak commodity prices. However, despite the challenges, 72.5% of firms have been able to beat their earning targets, indicating that managers are doing a good job of managing expectations.[2] On the other hand, reports show that the headwinds that dogged earnings last year will affect performance in 2016 as well.
We also got our first look at fourth-quarter economic growth, which showed that the economy grew at a lukewarm 0.7% pace in the final months of 2015. Low consumer spending weighed on growth, suggesting that Americans are pocketing gasoline savings instead of spending them.[3] We certainly can't fault folks for financially prudent behavior, but consumer spending accounts for 70% of economic activity. While we can attribute some of the slow economic growth to seasonal factors like an unusually warm winter, analysts will be closely watching data releases in the weeks ahead for signs of deeper weakness.
After meeting for the first time in 2016, the Federal Reserve declined to raise interest rates last week but gave no indication that it intends to abandon rate hikes later this year. Predictably, talking heads exploded on all sides. Some believe that the Fed made a mistake by not raising rates and giving markets more confidence in the economy. Others believe that the Fed is being appropriately cautious given the market turmoil and concerns about economic growth. What's clear is that the Fed is telling investors: "We're aware of the uncertainty and we're keeping an eye on many indicators."[4]
Bottom line: In our view, market volatility will remain with us for the foreseeable future. While investors appear to be cheerful about earnings that are consistently beating expectations, sentiment could turn on a dime. We're keeping an eye on fundamentals and are suggesting prudent changes where we deem necessary.
Looking ahead, we expect attention to remain on earnings releases as well as a raft of economic reports that could show whether the economy is slowing or not. Traders will be especially interested in seeing if Friday's January jobs report shows sustained strength in the labor market.
ECONOMIC CALENDAR:
Monday: Personal Income and Outlays, PMI Manufacturing Index, ISM Mfg. Index, Construction Spending
Tuesday: Motor Vehicle Sales
Wednesday: ADP Employment Report, ISM Non-Mfg. Index, EIA Petroleum Status Report
Thursday: Jobless Claims, Productivity and Costs, Factory Orders
Friday: Employment Situation, International Trade
HEADLINES:
Consumer confidence edges up. A measure of consumer optimism about the economy improved slightly in January, indicating that Americans are (so far) brushing off concerns about financial markets.[5]
Durable goods orders slump. New orders for long-lasting factory goods plummeted 5.1% in December, showing that the manufacturing sector slowed considerably last quarter.[6]
Weekly jobless claims fall. The number of Americans filing new claims for unemployment benefits fell sharply after reaching a six-month high two weeks ago, suggesting that labor market growth remains strong.[7]
China set growth target for 2016. For the first time, Chinese leaders set economic growth targets of 6.5-7.0% for this year as they attempt to support a transition to a more modest pace of growth.[8]
Quote Of The Week
"Try never to be the smartest person in the room. And if you are, I suggest you invite smarter people … or find a different room." – Michael Dell
Recipe Of The Week
Personal Chocolate Orange Cakes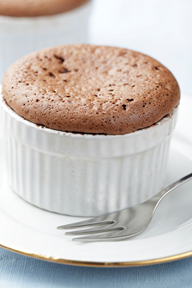 Bake these delicious desserts in individual ramekins for a lovely table presentation.
Serves 4
Ingredients:
5 oz. milk or semi-sweet chocolate, chopped
2 tablespoons unsalted butter (1 stick), chopped
2 teaspoons grated orange zest from an organic orange
2 large eggs, divided into yolks and whites
1 teaspoon pure vanilla extract
½ teaspoon kosher salt
1 teaspoon Dutch-process cocoa powder
2 tablespoons white sugar
Chef's Tip: Use organic fruits when you need the rind to avoid pesticides that can linger on the surface.
Directions:
Pre-heat your oven to 325°F. Create a double boiler by simmering one inch of water in a medium pot and setting a heatproof bowl on top. Don't let the bottom of the bowl touch the water.
Melt the chocolate and butter in the double boiler, stirring frequently. Set aside and mix in the orange zest, egg yolks, vanilla extract, and salt. Then stir in the cocoa powder.
In a separate bowl, whip the egg whites to soft peaks and then slowly beat in the sugar until stiff peaks form.
Gently fold the egg whites into the chocolate, being careful not to overmix and lose the fluffiness.
Divide the mixture between four 4-oz. ramekins or small bake-proof dishes and use a spatula to make the tops smooth.
Bake the cakes on top of a baking sheet for about 20 minutes until the cakes are puffed up and the tops look dry. The toothpick test should show that the center is still moist. If your oven runs hot, check the cakes at 18 minutes. Don't worry if the cake sinks a little after cooling.
Serve warm in the ramekins and topped with ice cream or whipped cream.
Recipe adapted from Samantha Seneviratne | RealSimple.com[9]
Tax Tips
Ask Your Tax Preparer About Security
Before handing over your sensitive personal and financial information, ask your tax preparer about his or her security safeguards. The IRS recommends that tax preparers have the following precautions in place:
Use robust security software that is updated regularly.
Perform periodic deep scans to look for malware and viruses on computers.
Inform employees about phishing scams and the dangers of clicking unsafe links on office computers.
For more information about the 2016 tax season and tax-related security, consult a qualified tax expert.
Tip courtesy of IRS.gov[10]
Golf Tip
Learn the Toe Chip
If you ever end up with your ball in a divot or lying in thick grass, a toe chip can help you get it out of the grass and on to the green. Here's how:
Set up close to the ball with your shaft nearly straight and just the toe of the club (the part of the clubhead farthest from the shaft) against the ball. This is the only part you want to strike the ball with.
Put just a bit of weight on your left foot and keep your grip solid but relaxed. You want your angle onto the ball to be sharp to get the ball up and out of trouble.
Pick a target and think about how much distance you need on the ball to reach your goal.
Calibrate your backswing to the distance you need to achieve and strike the ball sharply. If you've done it right, the ball should fly up and out and roll freely on the green.
Tip courtesy of Lee Huntley, LPGA/PGA | Golf Tips Mag[11]
Healthy Lifestyle
Friends and Family Help Spot Dementia
A study found that friends and family can spot signs of dementia better than traditional screening procedures. Researchers developed a set of questions that can be answered by friends and family to highlight concerns. While the quiz isn't a substitute for a physician's opinion, it can help identify a need for further testing.
The test, called the Ascertain Dementia 8 (AD8), covers changes in memory and cognition that affect daily life. While the test identified nearly all study participants who actually had dementia, it also identified several false positives, showing that the test isn't foolproof.
For more information about the AD8 test or dementia, talk to your physician or go online.
Tip courtesy of AARP[12]
Green Living
Sensitive to Odors? Try Vinegar.
Commercial air fresheners and sprays contain chemicals that can be problematic for children, asthmatics, and those who are sensitive to strong odors. The next time you want to freshen the air in your home, try spritzing with white vinegar or boiling 1/2 cup of white vinegar with 1/2 cup of water. The sharp vinegar smell will quickly dissipate and neutralize other odors.
Tip courtesy of Seattle PI[13]
Disclaimers:
Investing involves risk including the potential loss of principal. No investment strategy can guarantee a profit or protect against loss in periods of declining values.
Diversification does not guarantee profit nor is it guaranteed to protect assets.
The Standard & Poor's 500 (S&P 500) is an unmanaged group of securities considered to be representative of the stock market in general.
The Dow Jones Industrial Average is a price-weighted average of 30 significant stocks traded on the New York Stock Exchange and the NASDAQ. The DJIA was invented by Charles Dow back in 1896.
The Nasdaq Composite is an index of the common stocks and similar securities listed on the NASDAQ stock market and is considered a broad indicator of the performance of stocks of technology companies and growth companies.
The MSCI EAFE Index was created by Morgan Stanley Capital International (MSCI) that serves as a benchmark of the performance in major international equity markets as represented by 21 major MSCI indexes from Europe, Australia and Southeast Asia.
The Dow Jones Corporate Bond Index is a 96-bond index designed to represent the market performance, on a total-return basis, of investment-grade bonds issued by leading U.S. companies. Bonds are equally weighted by maturity cell, industry sector, and the overall index.
The S&P/Case-Shiller Home Price Indices are the leading measures of U.S. residential real estate prices, tracking changes in the value of residential real estate. The index is made up of measures of real estate prices in 20 cities and weighted to produce the index.
The 10-year Treasury Note represents debt owed by the United States Treasury to the public. Since the U.S. Government is seen as a risk-free borrower, investors use the 10-year Treasury Note as a benchmark for the long-term bond market.
Opinions expressed are subject to change without notice and are not intended as investment advice or to predict future performance.
Past performance does not guarantee future results.
You cannot invest directly in an index.
Consult your financial professional before making any investment decision.
Fixed income investments are subject to various risks including changes in interest rates, credit quality, inflation risk, market valuations, prepayments, corporate events, tax ramifications and other factors.
These are the views of Platinum Advisor Marketing Strategies, LLC, and not necessarily those of the named representative, Broker dealer or Investment Advisor, and should not be construed as investment advice. Neither the named representative nor the named Broker dealer or Investment Advisor gives tax or legal advice. All information is believed to be from reliable sources; however, we make no representation as to its completeness or accuracy. Please consult your financial advisor for further information.
Resources:
By clicking on these links, you will leave our server, as they are located on another server. We have not independently verified the information available through this link. The link is provided to you as a matter of interest. Please click on the links below to leave and proceed to the selected site.
1 http://finance.yahoo.com/q/hp?a=00&b=25&c=2016&d=00&e=29&f=2016&g=d&s=%5EGSPC%2C+&ql=1
http://finance.yahoo.com/q/hp?a=00&b=25&c=2016&d=00&e=29&f=2016&g=d&s=%5EDJI%2C+&ql=1
http://finance.yahoo.com/q/hp?a=00&b=25&c=2016&d=00&e=29&f=2016&g=d&s=%5EIXIC%2C+&ql=1
2 http://www.zacks.com/commentary/69841/q4-earnings-season-all-around-growth-challenges
3 http://www.foxbusiness.com/markets/2016/01/29/weak-4q-gdp-temporary-dip-or-is-u-s-recession-bound.html
4 http://www.cnbc.com/2016/01/27/the-fed-holds-rates-unchanged.html
5 http://www.foxbusiness.com/markets/2016/01/26/consumer-confidence-edges-up-in-january.html
6 http://www.cnbc.com/2016/01/28/market-reacts-to-sharp-decline-in-durable-goods-orders.html
7 http://www.foxbusiness.com/markets/2016/01/28/weekly-jobless-claims-fall-by-16000.html
8 http://www.cnbc.com/2016/01/29/china-set-to-adopt-65-7-percent-growth-target-range-for-2016-sources.html
9 http://www.realsimple.com/food-recipes/browse-all-recipes/milk-chocolate-and-orange-mousse-cakes
10 https://www.irs.gov/uac/Tax-Preparers-Perform-a-Deep-Security-Scan-of-Your-Computer-Drives
11 https://www.youtube.com/watch?list=UUPLAYER_GolfTipsMag&v=5K5386YrhhU
12 http://www.aarp.org/health/brain-health/info-10-2010/health_discovery_family_and_friends_spot_early_signs_of_dementia_better_than_doctors.html
13 http://www.seattlepi.com/news/article/52-tips-for-living-green-1269861.php