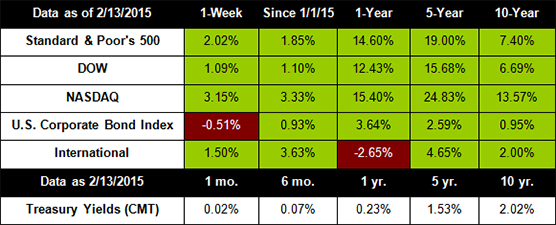 Stocks ended another positive week at record highs, sending the Dow above 18,000 and the S&P 500 to a new record close. Investors reacted positively to firming oil prices and news of a possible peace deal in Ukraine. For the week, the S&P 500 gained 2.02%, the Dow rose 1.09%, and the Nasdaq grew 3.15%.[1]
There were a few factors behind the week's rally, which erased previous losses and brought the major indexes back to positive for the year. Oil prices, which have been falling steadily for months, may be bottoming out as production declines and the number of oil rigs fall. Markets have been sensitive to oil prices and a slight bounce last week was enough to send stocks higher.[2]
The deteriorating financial situation in Greece was also in focus. As Greece nears its deadline for a new round of loans from the EU, encouraging remarks from Greek leaders suggest that an 11th-hour deal may be possible. Greece is seeking a new debt agreement with EU lenders that would allow it to back out of the painful austerity measures that have been imposed by creditors since 2010. If no agreement is reached, Greece would probably seek loans from alternative sources (like Russia or China), potentially damaging internal financial relations within the EU.[3]
Investors also reacted positively to better-than-expected growth numbers from Europe, which showed that the Eurozone economy grew 0.3% in the fourth quarter of 2014. Germany's economy outperformed, growing 0.7% on strong domestic demand. Even better, only three countries in the 18-member zone experienced economic contractions: Greece, Finland, and Cyprus.[4]
Oil will likely be the source of more market activity during this holiday-shortened week as analysts try and determine whether crude oil prices may be stabilizing. The effects of a Russia-Ukraine ceasefire may also ripple through oil markets, causing additional volatility, though we can hope for further market growth.
ECONOMIC CALENDAR:
Monday: U.S. Markets Closed For Presidents' Day Holiday
Tuesday: Empire State Mfg. Survey, Housing Market Index, Treasury International Capital
Wednesday: Housing Starts, PPI-FD, Industrial Production, FOMC Minutes
Thursday: Jobless Claims, PMI Manufacturing Index Flash, Philadelphia Fed Survey, EIA Petroleum Status Report
Quote of the week:
"Look at a day when you are supremely satisfied at the end. It's not a day when you lounge around doing nothing; it's when you've had everything to do, and you've done it." – Margaret Thatcher
HEADLINES:
Consumer spending lags in January. Retail sales, a core measure of how Americans spend, edged up barely 0.1% after dropping 0.3% in December. This report suggests that Americans are not using fuel savings to boost their spending, which could trim Q1 economic growth.[5]
Small business sentiment downbeat. Optimism about the economy fell last month among small business owners who worried about sales and decreasing inventory spending. However, sentiment about the labor market remains positive.[6]
Weekly unemployment claims rise unexpectedly. The number of Americans filing new unemployment claims rose slightly last week. Seasonal issues – including major snowstorms in Massachusetts – may have affected data collection and underlying labor trends still show strength.[7]
U.S. business inventories increase slightly. Inventories, a key factor of economic growth, edged up just 0.1% in December, supporting views that growth slowed in the fourth quarter.[8]
Click here to view full newsletter with reference articles, tax tips, golf tips, recipe of the week and more!
Notes on featured image: All index returns exclude reinvested dividends, and the 5-year and 10-year returns are annualized. Sources: Yahoo! Finance and Treasury.gov. International performance is represented by the MSCI EAFE Index. Corporate bond performance is represented by the DJCBP. Past performance is no guarantee of future results. Indices are unmanaged and cannot be invested into directly.